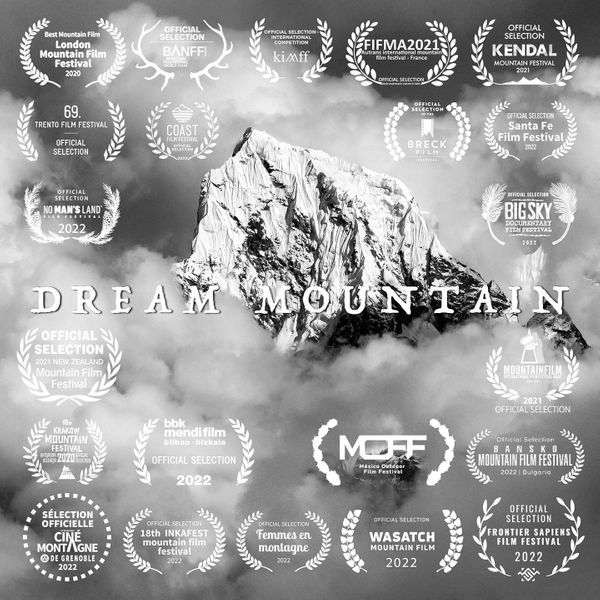 Dream Mountain Continues To Screen Around The World, Playing To-Date At 18 Film Festivals + 3 Regional Tours + 1 World Tour
Since June 2022, Dream Mountain has received eight new festival laurels (bringing the 2022 total to 14), playing at Breck Film Festival (Colorado), Bansko Mountain Film Festival (Bulgaria), Inkafest Mountain Film (Peru), Grenoble Mountain Film (France), Femmes en Montagne (France), Coast Film Festival (California), Mendi Film Festival (Spain) and is currently on the 10-stop Mexico Outdoor Film Festival. To date, Dream Mountain has earned 22 festival laurels around the world, comprising 18 individual festivals, 3 regional tours, and 1 world tour.
"Each time Dream Mountain is selected to play in a film festival the joy is not the laurel (tho, yay), but knowing that this heartfelt, strong story of overcoming personal, cultural and systemic messages of negation faced by so many people everywhere (especially women) continues to touch viewers around the world," said Executive Producer and Co-Expedition Photographer Cira Crowell.
In 2023 Dream Mountain will wrap up its run on the Banff Mountain Film World Tour with select showings overseas as part of the "Larch Program." Please check https://www.banffcentre.ca/banffmountainfestival/tour/int for more info on upcoming screenings.
We are honored and grateful for all of the recognition and continued support in our efforts to spread Pasang Lhamu Sherpa Akita's message, that "everyone has the right to live their dreams."